Core Set 2020 Set Mastery! The Core Set 2020 Set Mastery will end on September 26, 2019 at 4 a.m. PT (11 a.m. UTC). Once that deadline has passed, players will not be able to earn any additional Mastery rewards or XP until Throne of Eldraine is available on MTG Arena!
Psst! You can use the aptly named code "FiveBonusLevels" to earn . . . five levels! You have until September 25 at 12:00 a.m. UTC to redeem this code!
The Standard 2020 events are still happening!
Now, back to Throne of Eldraine. We will be launching a new Set Mastery with the release of Throne of Eldraine! We'll be detailing this early next week, but you can expect some small tweaks based on what we've learned from our first Set Mastery (and, of course, plenty of rewards).
Purchasing the Eldraine Mastery Pass will earn you even more rewards, starting with the Garruk, Primal Hunter avatar, the Fae Fox pet, and a Throne of Eldraine card sleeve based on the beautiful key art by Seb McKinnon:
Standard Rotation in MTGA 2019
Yes, this is your faerie guidemother reminding you again that with the release of Throne of Eldraine comes our Standard rotation. While Ixalan, Rivals of Ixalan, Dominaria, and Core Set 2019 will still be available in MTG Arena, cards from those sets will no longer be playable* in Standard formats or events: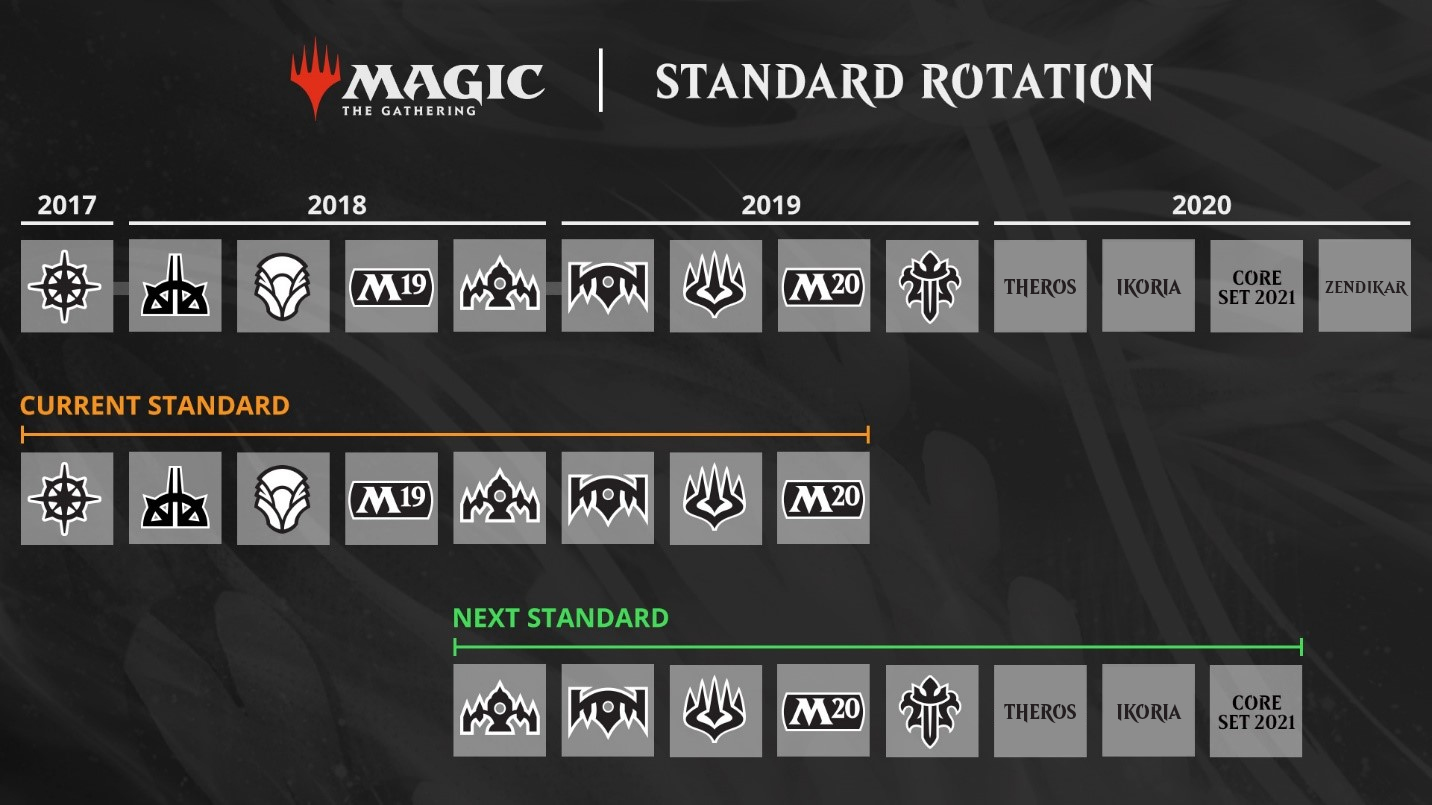 *Unless they also appear in those sets, e.g., Luminous Bonds appears in both Rivals of Ixalan and Guilds of Ravnica, so both versions are still playable in Standard.
For those of you who wish to play non-Standard cards, our Play queue will support Historic decks and we have more Historic events planned for later this year.
Updated battle display
Now that there is Standard and non-Standard play, we'll also be updating most of the in-game names we use for our events and play queues.
Play -> Play

Both Standard Play and Historic Play will be playable through Play—your deck will determine which format you're playing!

Ranked Play -> Standard Ranked
Traditional Play -> Standard Traditional Play
Traditional Ranked -> Standard Traditional Ranked Play
Constructed Event -> Standard Event
Traditional Constructed Event -> Standard Traditional Event
Another thing to pay heed to is that the Constructed Event and Traditional Events will end (albeit temporarily!) on September 26. This is to ensure that players don't get stuck with invalid decks after set rotation. These events will resume (under their new monikers) with the Throne of Eldraine update.